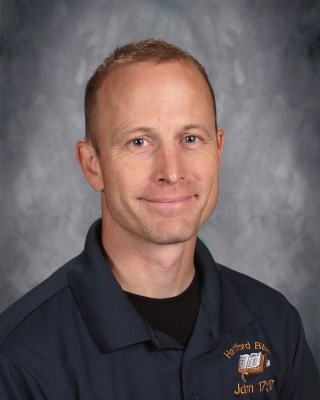 Benjamin Williamson
Interim Administrator
Benjamin Williamson grew up in Decatur Michigan. He graduated from Michigan State University with a B.S. in Earth Science and a math minor; he obtained his Michigan teaching certificate in 2006. Mr. Williamson spent five years teaching 5-8 Grade Math and Science at Trinity Lutheran School in Paw Paw. Two years later, Mr. Williamson became Pastor Williamson at Hartford Bible Church. Mr. Williamson has served on the Grace Christian School board these past four years. His three children Luke, Anna, and Matthew attend Grace in grades 10, 9, and 8.  The real prize of his time at Michigan State is his lovely wife, Keri.
Currently, Mr. Williamson is the board chairman and serves as the interim Administrator.
Job Description:
The Administrator is the effective leader in all areas. He is responsible for the business end of education, balancing the budget against enrollment and payroll. He is intimately aware of what is happening in GCS committees. Through the Business Office, spending is regulated at his discretion. The Administrator works with the Principal in her endeavor to create an educationally successful environment. He is accountable to the school board.