Donate Via the Cash App
Fee Free Giving
Scan the QR code below or use $GCS1974
201/50,000 Daily Progress for the 50 in 50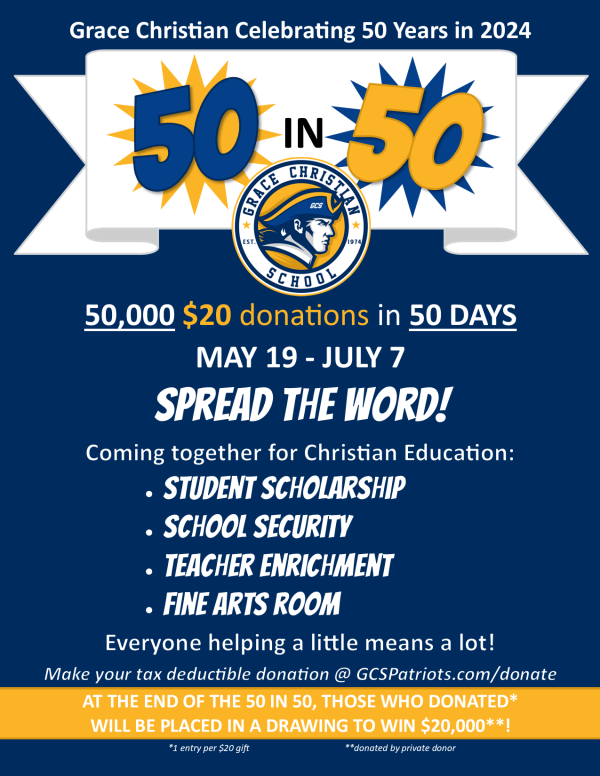 For years Grace Christian has depended on only the local community for financial support.  The goal of the 50 in 50 is ask a much larger community to help our teachers and students give and have a traditional Christian education.  This is our first time offering this kind of fundraiser.  We have a donor who wants to see this fundraiser to succeed.  He said that he would write a check to any one person who donated during this fund drive.  The promised $20,000 is in his possession and he will write a check directly to the donor drawn in July.  We want to be clear that the money you are donating will be used in the four areas outlined.  The algorithm is set for every $20 enters the donor's name.  So, $100 donation will put someone's name in 5 times.  We've invited staff and people who are close to the school to participate because the drawing will be an honest drawing.  The optics will be bad if the administrator's name would be drawn (he said if that's the case, draw again).  Any winner is welcome to donate back the $20,000 or request that someone else be drawn.  If you have any questions about this fundraiser please reach out at info@gcspatriots.com.
Grace Christian School has for nearly 50 years been funded by churches, individuals, and tuition from families that see the benefit of Christian values being embedded into every part of a child's school day.  What is being taught for an hour or two on Sunday is affirmed 8 hours a day Monday through Friday at Grace Christian.  Tuition is expensive and we do not pay our teachers enough.  Every improvement at our school is because an individual, church, or business gave to make that happen.  Our general fund is solely concerned with payroll and utilities.  You can see how generous our supporters have been for us to have a beautiful campus and facility and yet nothing stays new.
We are looking to increase security throughout the building, make teaching easier through updated technology in the classroom, provide scholarships for families, and add space specifically for our music program.  We invite you to help Grace Christian School achieve these goals.