About Our Basketball Program
The GCS athletic program gives students another opportunity to grow in the Christian Life. Life is full of adversity, tribulation if you ask Jesus, John 16:33. Athletics provides a safe environment to encounter adversity, failure, and admonishment. We build a broader context to the athletic event, which is important in itself, but the athletic event is an opportunity to honor our team, school, and Lord.
Grace Christian is committed to using sports to cultivate discipline. Discipline is a foundational Christian virtue and valuable life tool; it's essential to success in sports, First Corinthians 9:24-27. Even in defeat there can be victory. Grace values the development of the student athlete as much as the outcomes. There's no clearer biblical principle on display in team athletics as the Law of the Harvest, Galatians 6:7.
Basketball Camp is June 5-9.  You can still sign-up! 
Elementary (1st-4th) 9:00-10:30; Secondary (5th -12th) 10:30-12:05.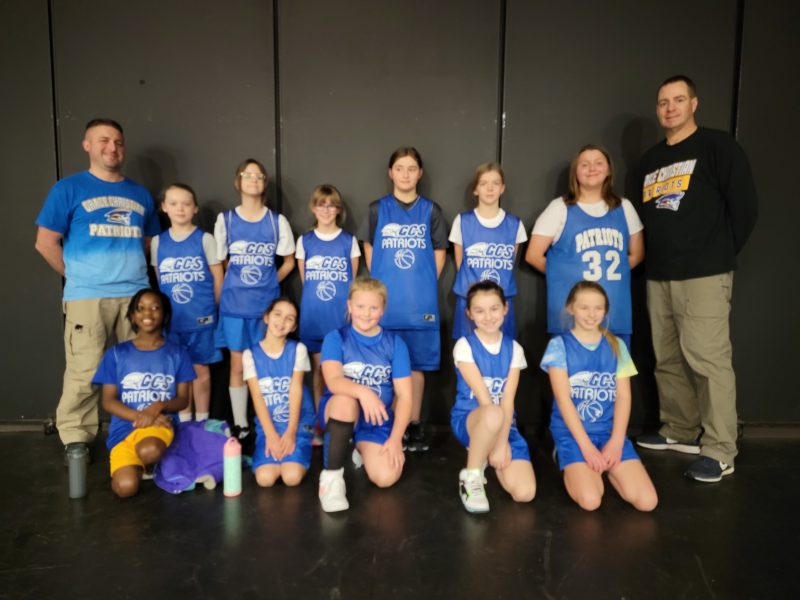 Varsity Girls
The winter of 22 the Varsity Girls Basketball came back to Grace Christian. Coach Teeters melded experience and first-time players into a working unit. The growth was tremendous and the future is bright.
Junior Varsity Boys Basketball
Winter of 23 we anticipate having the first Highschool Basketball team in years. These are boys that have grown up through our Jr. High program. They have had success and are eager for more. Coach Dill is competitive and pushes our boys to give all they have. These boys provide Coach Dill with many teachable moments. We love coach Dill because he seizes upon these moments to teach these young men about the principles of life.
Junior High Basketball
The Middle School Boys Basketball had a very successful season. The team had both starters and bench support. Coach Dill had an opportunity to grow both throughout the season. This bench is ready to be next year's starters.
Elementary Boys
The Elementary boys were broke into 2 groups. Grades 5 and 6 and Grades 2-4. Elementary boys season runs in January and February. Sportsmanship was noted by the referees at many of the games. "We like working your games. The kids are respectful."
Elementary Girls
The Elementary Girls play November and December on Saturday. Blessed is the man who works with those who are starting something new.
Basketball Camps
Patriots Basketball Camp is dedicated to teaching the fundamentals of basketball to boys and girls. There are two camp sessions. An elementary segment in the morning with a Jr. High/Highschool camp in the afternoon. Coach Dill, Trever Meachum, and others help facilitate this camp.
Camp date:  June 5-9, 2023.  Elementary (1st-4th) session 9:00-10:30; Secondary (6th -12th) Session 10:30-12:05
Facilities
Practices and home games are held in our Gym on the GCS campus. The gym features a full court plus four additional practice baskets, boys and girls locker rooms and a weight training room.
Championship Records:
Mens Varsity Basketball
Conference Champions: 2006, 2007
District Champions: 1989
Womens Varsity Basketball
Conference Champions: 2010
Partner with GCS Basketball today – it will be a blessing to you!
Buy an Athletic Annual Pass
Volunteer
Become a Corporate Sponsor