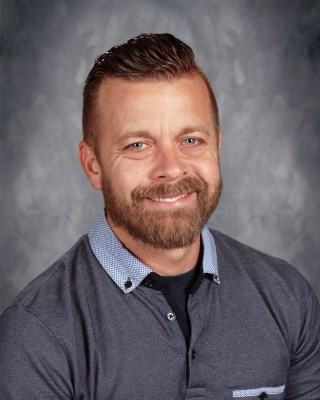 Mike Dill
4th & 5th Grades
Mike Dill has been teaching at GCS since fall of 2016. While going to college and earning his Elementary Education degree from Western Michigan University, he worked for Corewell Health Lakeland Hospital. Mr. Dill has always had a passion for teaching and working with youth. He taught Sunday School for several years and currently, he and his wife, Rebecca, are youth pastors at New Life Christian Center in Coloma, MI.
The Dill's have three children: Jamin (16), Jaxon (14), and Jathan (10) who all attend Grace Christian School.
When Mr. Dill is not at work or church, he enjoys rooting for his favorite team, the Michigan Wolverines. GO BLUE!!!
Job Description/Class Overview:
Mr. Dill's primary role at GCS is teaching 4th and 5th Grade Bible, History, and Science. He enjoys co-teaching these two grades with his colleague, Ms. Erickson, because each gets to teach their strengths and focus on what they are passionate about.
Mr. Dill is also very involved with our sports programs at GCS. This includes coordinating our boys and girls elementary basketball league, organizing our annual end of the year basketball camp, and coaching our JV boys' basketball team.