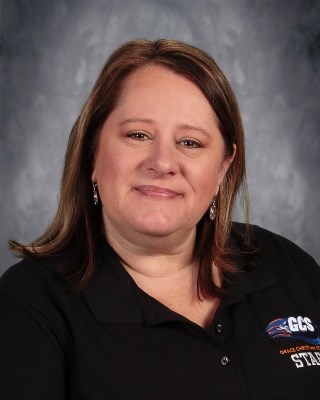 Leslie Colford
Principal, Curriculum Specialist, Guidance
Mrs. Colford was born in Michigan but has moved over 20 times throughout her life. As a child, she lived in both Texas and North Carolina before her family settled in Los Angeles, California. There, Mrs. Colford attended Biola University, where she earned a B.A. in Education with a minor in Biblical and Theological Studies. She later earned a M.Ed. in Instructional Design. After returning to Michigan, she began teaching secondary English Language Arts at GCS in the fall of 2006. At the start of the 2017-18 school year, Mrs. Colford took the position of Assistant Principal, balancing both teaching and administrative duties for the next five years. Realizing that she wanted to do more to support teachers in the classroom, she transitioned to full time Principal with the start of the 2022-23 school year.
Mrs. Colford is married to her best friend and biggest cheerleader, Jim, a displaced New Yorker. They have five children; RJ, Taylor (GCS Class of 2014), Jack, Hannah and Jessica (GCS Class of 2018). Mrs. Colford attends Lakeshore Christian Church in Stevensville, where she spent many years serving as Music Director and Camp Booster for Michiana Christian Camp. She and her husband remain active members of the worship team.
The Colfords enjoy the Pure Michigan vibe, but take frequent road trips to reconnect with their big-city roots. They enjoy travel, music, theatre, and creative food venues.
Mrs. Colford's favorite Bible verse is Jeremiah 20:9, "But if I say, 'I will not mention His word  or speak anymore in his name,' his word is in my heart like a fire, a fire shut up in my bones. I am weary of holding it in;  indeed, I cannot."
Job Description:
As Principal, Mrs. Colford oversees the day-to-day operation of student life in the building. Her focus is on students, teachers, curriculum, standardized testing, and things of an academic nature. She oversees the Academic Committee and the Guidance Department. She is passionate about reading, the love of reading, and the importance of being a lifelong learner. Her desire is to create a school culture where students are excited to show their school spirit and take genuine pride in being a Patriot. She embraces opportunities to help students develop servant leadership skills, and most importantly wants them to leave GCS having developed an intimate relationship with Jesus.